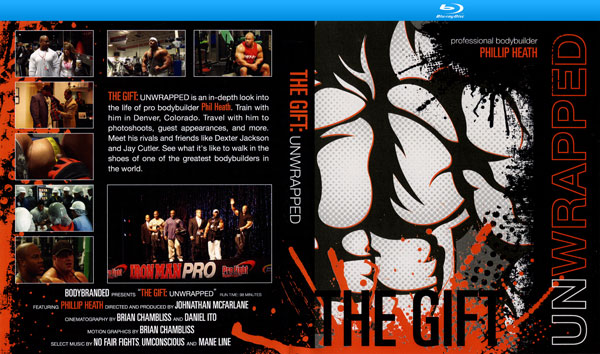 Click here for preview clip

PHIL HEATH - The Gift Unwrapped on Blu-Ray

The SD Standard DVD version is also available.
THE GIFT: UNWRAPPED is an in-depth look into the life of pro bodybuilder Phil Heath. Train with him in Denver, Colorado. Travel with him to photoshoots, guest appearances, and more.
Meet his rivals and friends like Dexter Jackson and Jay Cutler. See what it's like to walk in the shoes of one of the greatest bodybuilders in the world.

This DVD is a fly on the wall documentary following Phil every step of the way. We need say no more as the preview clip says it all!

Phil was runnerup in the recent 2010 Arnold Classic and 2010 Mr. Olympia contests. (See links below)
Testimonial
Subject: PHIL HEATH THE GIFT - UNWRAPPED
Wayne:
What a well put together DVD! The group that videotaped Phil Heath's DVD did an excellent job – flawless! I can't wait for his next DVD: Phil Heath – Journey to the Mr. Olympia.
I will send a payment for Kai Green's Vol. 2 DVD next.
Cesar Medina,
San Diego, CA April 2010

************************************************************
Please click here to see Phil as he places second at the 2010 Arnold Classic, GMV-774DVD.
Please click here to see Phil as he places second at the 2010 Mr. Olympia, A-1358DVD.

Please click here for Phil's first DVD, THE GIFT, A-1194DVD.

Please click here to see Phil winning the 2008 Iron Man Pro, V-210DVD.
Running time: 120 mins

NTSC DVD, OPEN REGION