Click for preview.

ALSO AVAILABLE AS A 4 PART SERIES OF DOWNLOADS:

PART 1 DOWNLOAD.
PART 2 DOWNLOAD.
PART 3 DOWNLOAD.
PART 4 DOWNLOAD.


Arnold - The Early Years

** Approximately 109 minutes of Arnold's Bodybuilding History **

GMV's award winning documentary on Arnold's early career in bodybuilding.

IFBB Arnold Classic USA on DVD & Download - Men & Women.
Apart from the 73 minutes of early contest and outdoor posing footage of Arnold and Franco, the bonus material from this collector's DVD includes more recent out-takes, on-stage and behind the scenes video from the Arnold Classic.

ARNOLD SCHWARZENEGGER PHOTO GALLERY.

Firstly we see Arnold on stage in England aged 19 on the 28th of January 1967, doing curls and then guest posing. Next aged 20 while outdoors in a garden he pumps up with DB curls before posing. This includes closeups of his amazing arms and is the earliest Arnold colour footage we know of.

In 1970 you see Arnold as he wins his final NABBA Universe in the Pro class. Also seen briefly are Draper, Zane, Columbu, Coe, Beckles and more. This is followed by brief highlights from the 1970 Mr Olympia. The Olympia footage is poorly lit but included in the DVD as it is so rare. See Joe present the trophy to Arnold at this event.

(SPECIAL NOTE: At the time this DVD was edited, my footage of the 1971 Mr. Olympia could not be located. It was subsequently found and used in V-214DVD MR. OLYMPIA - THE GOLDEN YEARS.
When this Arnold DVD is revised and updated one day, we will add this footage as follows:
1971 Mr Olympia - Arnold + Franco Columbu guest posing 2.5 mins and Sergio Oliva also guest posing 1 min.)

A real highlight is Arnold guest posing aged 23 in USA along with Franco posing at the same event.

1972 poolside on the Gold Coast in sunny Australia, Arnold and Franco pump and pose both individually and duo in a superb in-depth segment including more great closeups of Arnold's huge arms. Shot at the Chevron Hotel, Surfers Paradise, Qld. by Wayne Gallasch on Sunday 6th February, 1972.

(SPECIAL NOTE: My footage of Arnold Guest Posing at this 1972 Southern Hemisphere Mr. Universe in Surfers Paradise could not be located when this DVD was edited. It will subsequently be included in this DVD at the next update. It is presently only seen in the contest DVD, V-099DVD.)

No other similar outdoor poolside posing footage of Arnold was ever recorded in his career. This footage was shot by Wayne Gallasch of GMV Productions and is his most well known footage from his long career in bodybuilding video and DVD productions. Wayne's still photographer that day was Robert Nailon.
See Robert's photo of the occasion below. Paul Graham is shown in the centre.
1972 was a very big year for Arnold as we see him defeat Sergio at the 72 Mr Olympia in Essen, Germany. This segment runs around 10 minutes and is the only known footage of the 1972 Mr Olympia event. Posing also by Serge Nubret, Franco Columbu and Arnold plus posedown and award for his 3rd Olympia crown. Please click here to see the Score Card from the 1972 Mr. Olympia.

(To see our DVD on Sergio Oliva "The Myth" please click here for GMV-690DVD)

In 1975 it was back to Melbourne Australia again for more guest posing, this time at the IFBB Mr Australia contest, promoted by Frank Burwash, also including posing by the winner, Roger Walker. In 1980 Roger placed 6th in the Mr Olympia.

Next we see Arnold posing at the 1975 Mr Olympia in South Africa, plus posing by Lou Ferrigno and Serge Nubret - the posedown and final award again to Arnold.

In 1980 Arnold made his comeback in Australia at the Mr Olympia contest held at the Sydney Opera House. It was to be Olympia victory # 7. See his solo posing, many comparisons, compulsory poses and more as Arnold once again stands victorious. Includes scenes of many of his closest rivals from Mentzer to Zane etc. A tour de force with Arnold, since voted the most popular bodybuilder of all time.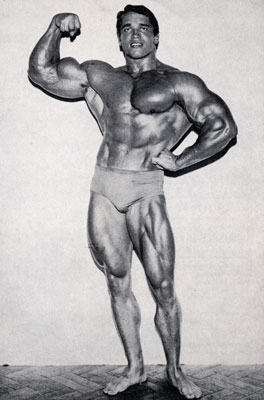 THE EXTRA SCENES are as follows:

1. 1993 at FIBO in Germany, Arnold meeting with fans.

2. Having fun at the 1993 FIBO Concert in Germany.

3. Arnold's opening speech at the 2001 Arnold Classic and includes award to Reg Park.

4. Arnold presents Ronnie Coleman with 1st place trophy at the 2001 Arnold Classic.

5. Arnold in back stage press photos with Ronnie Coleman.

6. Arnold presents Jay Cutler with 1st place trophy at the 2002 Arnold Classic.

7. Arnold in back stage press photos with Jay Cutler.

8. Arnold and Anja Schreiner on stage at the 2002 Arnold Weekend Fitness Expo.

9. Photo Gallery which includes many unpublished photos never seen before.

PHOTO LEFT: Arnold from 1969 courtesy Peter Fasching. Germany.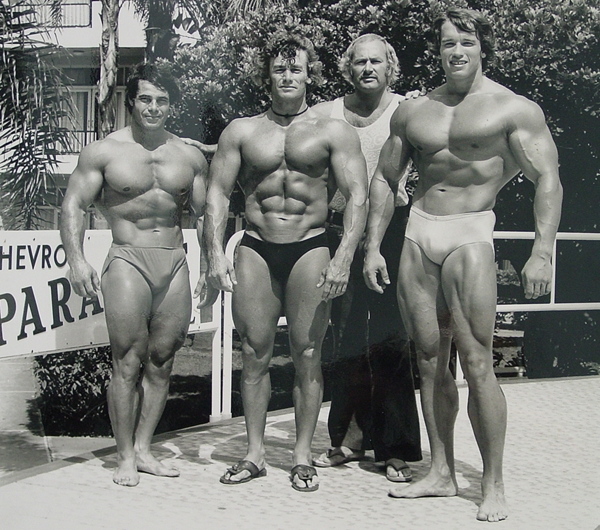 See photo of Arnold and his new bronze statue at the unveiling prior to the 2012 ARNOLD CLASSIC in Columbus, Ohio.

*RECENTLY ADDED:
The photo of the ARNOLD SCULPTURE taken during a snow storm in Columbus, see below right, was taken by Wayne Gallasch in February, 2014, several days prior to the final Arnold Classic to be held at the Veterans Memorial Auditorium. The event will be held entirely at The Greater Columbus Convention Center from 2015 onwards.
The second snow photo of the Arnold Bronze was taken by Wayne in 2015.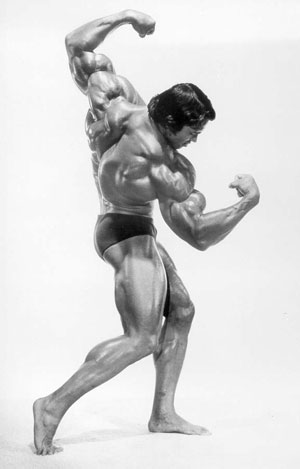 Mr. Olympia – The Golden Years: 1971, 1974, 1975, 1979

In this historic Olympia DVD presentation, we have gathered together our rare and mostly previously unseen Olympia segments that were shot on super 8 film in the Golden 70s. As each segment seemed too short to release at the time, nothing happened till we obtained the wonderful and fantastic quality 20 minute film from the 1979 Mr. Olympia. This shows Frank Zane in his all time best condition defeating Mike Mentzer to win the Overall 1979 Mr. Olympia crown in Columbus Ohio. These are not complete Olympias but consists of the only known footage shot on film at these famous contests. All of the 3 1979 contests are exceptional quality.


GENERATION IRON the DVD (EXTENDED DIRECTOR'S CUT)
This Limited Edition Extended Director's Cut* with over 10 minutes of new scenes, is not available in DVD stores!

"Generation Iron" follows the world's top seven bodybuilders as they fight to bring home the coveted Mr. Olympia title.

The film features current Mr. Olympia title holder Phil Heath, along with Kai Greene, Branch Warren, Dennis Wolf, Ben Pakulski, Hidetada Yamagishi and Roelly Winklaar.


The Comeback: Arnold at the 1980 Mr. Olympia

This is the story of one of the greatest comebacks of all time. Also starring with Arnold are Tom Platz plus appearances by a number of the Mr. Olympia contenders - Frank Zane, Boyer Coe, Dennis Tinerino, Mike Mentzer, Chris Dickerson, Samir Bannout, Roy Callendar and Roger Walker. Includes scenes of Arnold training in the gym in Sydney, plus contest pump room scenes, interviews, and contest posing by some of the other competitors.

See the complete posing routines of Arnold, Platz and Zane, plus the incredible posedown.
Arnold Schwarzenegger - Contest History

Height: 6'2"
Contest weight: 240lbs
Born July 30, 1947 Graz, Austria
1966
Mr Europe - Winner
Mr Universe - NABBA, Tall Class, 2nd
1967
Mr Universe - NABBA, Tall Class, 1st
Mr Universe - NABBA, Overall Amateur Winner

1968
Universe - IFBB, 2nd
Universe - Pro - NABBA, Tall Class, 1st
Universe - Pro - NABBA, Overall Winner

1969
Mr Europe - IFBB, Tall, 1st
Mr Europe - IFBB, Overall Winner
Mr International - IFBB, Tall, 1st
Mr International - IFBB, Overall Winner
Olympia - IFBB, 2nd
Universe - IFBB, Overall Winner
Universe - IFBB, Tall, 1st
Universe - Pro - NABBA, Tall Class, 1st
Universe - Pro - NABBA, Overall Winner

1970
Olympia - IFBB, Winner
Universe - Pro - NABBA, Tall Class, 1st
Universe - Pro - NABBA, Overall Winner
Mr World - AAU, Pro Tall, 1st
Mr World - AAU, Professional Overall Winner

1971
Olympia - IFBB, Winner

1972
Olympia - IFBB, Winner

1973
Olympia - IFBB, Winner

1974
Olympia - IFBB, HeavyWeight, 1st
Olympia - IFBB, Overall Winner

1975
Olympia - IFBB, HeavyWeight, 1st
Olympia - IFBB, Overall Winner

1980
Olympia - IFBB, Winner

*******************************************


Click here for details on PUMPING IRON, A-1071DVD.

Click here for details on the DVD of Arnold's last contest, the 1980 Mr Olympia 2 DVD set, V-103DVDSP.
Click here for the 1970 NABBA Universe, V-108DVD.
Click here for Mr. Olympia - The Golden Years, V-214DVD.

Click here to read Arnold Schwarzenegger's early contest history 1963 - 1966, article also includes competitive weightlifting and powerlifting history 1963 - 1968.
From Dr. David New.

Click here to see Dr. New's complete and update contest history of Arnold, posted December, 2010.


(CUSTOMER REVIEW)

Hey guys, Just a quick note to thank you for the fantastic Arnie DVD! I am enjoying this DVD greatly. It is wonderful and worth the "price of admission."
Too bad something like this didn't exist 20 years ago when I was 15 . . . Thanks again for the great product and best wishes.

Regards, Eddie F.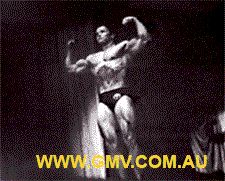 NTSC DVD, OPEN REGION