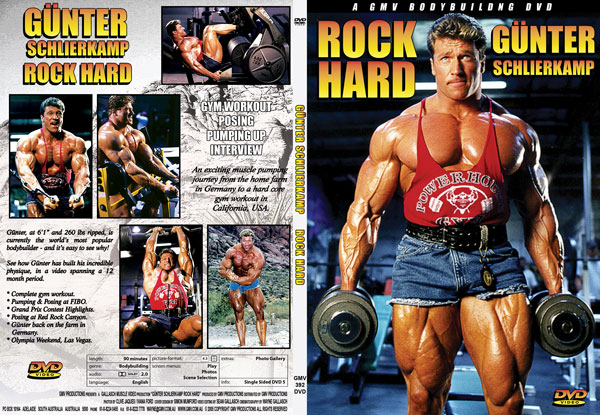 Click here for preview.


Gunter Schlierkamp - Rock Hard

GUNTER'S FULL HARDCORE WORKOUT PLUS POSING!

Also available on Digital Download.

* GYM WORKOUT
* POSING
* INTERVIEW
* PUMPING UP
An exciting muscle pumping journey from the home farm in Germany to a full hard core gym workout in California, USA.
Günter, at 6'1" and 260 lbs ripped, is currently the world's most popular bodybuilder - and it's easy to see why!
See how Gunter has built his incredible physique, in a DVD spanning a 12 month period.
* Complete gym workout.
* Pumping & Posing at FIBO.
* Posing at Red Rock Canyon.
* Günter back on the farm in Germany.
* Olympia Weekend, Las Vegas.
* Grand Prix contest highlights
*Includes DVD photo gallery.
All photos on the cover and more, see below - were taken during the actual video shoot. Outdoor photos by Wayne Gallasch & Clive Jaques.

See our website PHOTO GALLERY of 24 photos.

*Click here to read a review of this DVD.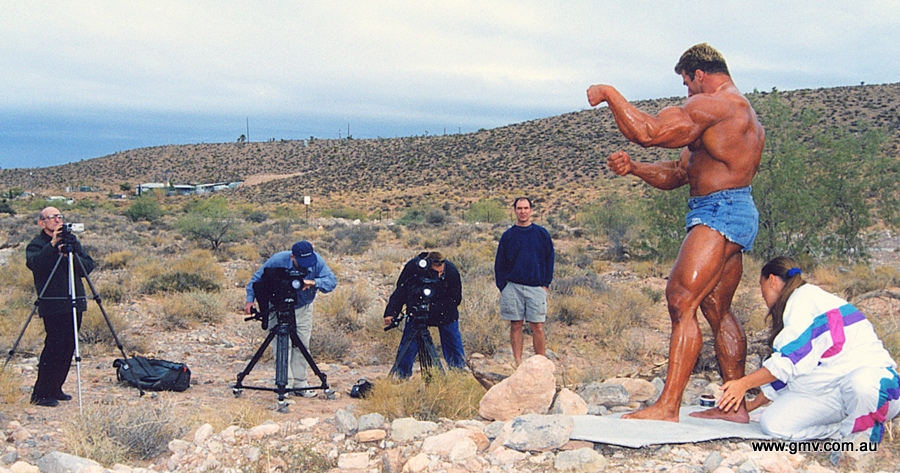 Our GMV team in 2000 shooting Gunter's posing at Red Rock Canyon, Las Vegas, Olympia Sunday. L to R - Dick Rossan, Wayne Gallasch, James Cook, Bill Comstock, Gunter and Carmen. Photo by team member Clive Jaques, pictured below with Gunter.


Road to Success - Dan Hill & Gunter Schlierkamp

Success may be defined in many shapes and forms, but in general nothing can be greater success than the realisation of your dreams. GUNTER SCHLIERKAMP - World famous IFBB Professional Bodybuilder and DAN HILL, the youngest IFBB Pro - believed in theirs. In 2011 both men were travelling the bodybuilding world and representing famous supplements brand MULTIPOWER PROFESSIONAL globally. Follow them on their journey and get an exclusive insight on their training, travels and bodybuilding lifestyle.
Big Dan Hill – Journey to the Top of the Hill 2 DVD Set

This huge 2 DVD set includes extensive training and posing segments shot at various stages of preparation throughout the year preceding Phoenix, plus much more. It shows you how a young, up and coming European bodybuilder claws his way into the pro bodybuilding ranks.

It takes dedication, determination and gut-busting hard work. From Dan's Junior years through to his successful career today, this MASSIVE 370 mins - 2 DVD SET takes you on an amazing journey you will not want to miss!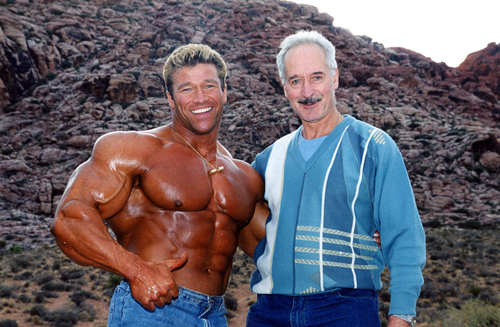 Gunter Schlierkamp Contest History


1990

German Championships, Junior Overall Winner
German Championships, Junior - Tall, 1st
1992
European Amateur Championships - IFBB, HeavyWeight, 1st
German Championships, HeavyWeight, 1st


1993
World Amateur Championships - IFBB, HeavyWeight, 1st


1994
Grand Prix England - IFBB, 8th
Grand Prix Germany - IFBB, 8th
Olympia - IFBB, Did not place

1995
Canada Pro Cup - IFBB, 2nd
Grand Prix Ukraine - IFBB, 10th

1996
Arnold Classic - IFBB, 11th
Night of Champions - IFBB, 11th
San Jose Pro Invitational - IFBB, 9th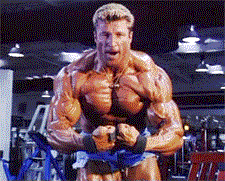 1997
Canada Pro Cup - IFBB, 6th
Ironman Pro Invitational - IFBB, Disqualified
Night of Champions - IFBB, 9th
San Jose Pro Invitational - IFBB, 11th

1998
Grand Prix Finland - IFBB, 6th
Grand Prix Germany - IFBB, 6th
Night of Champions - IFBB, 10th
Olympia - IFBB, Did not place
San Francisco Pro Invitational - IFBB, 9th
Toronto Pro Invitational - IFBB, 6th

1999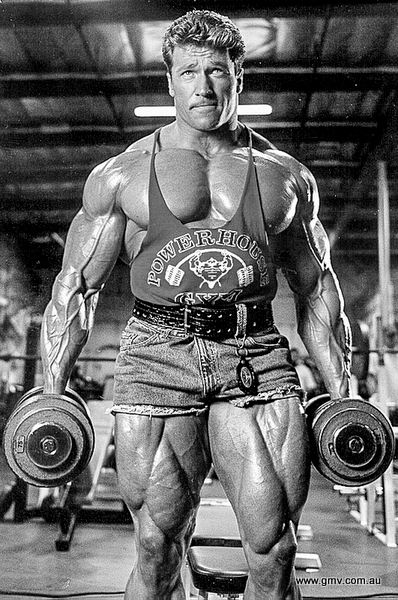 Arnold Classic - IFBB, 9th
Ironman Pro Invitational - IFBB, 5th

2000
Arnold Classic - IFBB, 6th
Grand Prix England - IFBB, 4th
Ironman Pro Invitational - IFBB, 4th
Olympia - IFBB, 12th
World Pro Championships - IFBB, 6th

2001
Grand Prix England - IFBB, 10th
Night of Champions - IFBB, 9th
Olympia - IFBB, 15th
Toronto Pro Invitational - IFBB, 6th

2002
Olympia - IFBB, 5th
Show of Strength Pro Championships - IFBB, Winner

2003
Grand Prix England - IFBB, 3rd
Grand Prix Holland - IFBB, 4th
Olympia - IFBB, 5th
Show of Strength Pro Championships - IFBB, 5th

2004
Arnold Classic - IFBB, 4th
Olympia - IFBB, 6th

2005
Olympia - IFBB, 4th

2006
Olympia - IFBB, 10th

NTSC DVD, OPEN REGION