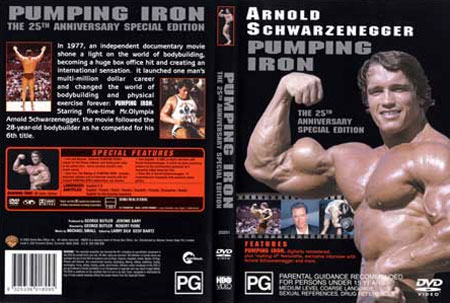 Click here to view the DVD preview.

Pumping Iron

The 25th Anniversary Special Edition of Pumping Iron.

The 25th Anniversary Special Edition of Pumping Iron. This is the most famous bodybuilding DVD ever produced! It is the definitive DVD on the sport of bodybuilding and has been seen by more bodybuilding fans than any other DVD on our great sport. This film also introduced Arnold to a wider world audience, and also put him on the map to go on to a huge and very successful career in the movies.

Click here for the Arnold Photo Gallery.

Pumping Iron the movie is a 1977 production highlighting the world of bodybuilding, and in particular focusing on the 1975 IFBB Olympia and Mr. Universe contests in South Africa. Most of the film focuses on the intense rivalry and competition between Arnold Schwarzenegger and Lou Ferrigno. The production also features some segments on other bodybuilders such as Franco Columbu, Ken Waller, Mike Katz, Ed Corney, Serge Nubret, Robby Robinson, Paul Grant and other top men of that time.
The main part of the film was shot during the 100 days leading up to these two contests held in Pretoria, South Africa, with the final movie scenes shot during the contest.

Bonus material exclusive to this 25th Anniversary edition features more than 84 minutes of new, never-before-released programming, including:
** Iron and Beyond - explores Pumping Iron's impact on the fitness industry and Hollywood's idea of the action hero - not to mention Arnold's own movie career.
** Raw Iron: The making of PUMPING IRON - includes exclusive outtakes and an interview reunion with the original PUMPING IRON bodybuilders and director.
** Iron insights - a 2003 in-depth interview with Arnold himself, in which he finally gives surprising answers to the controversial questions he's frequently asked about the film.
** Video bio of Arnold - a comprehensive biography with exclusive photo gallery.

Running time of these EXTRAS: 84 mins
AND OF COURSE - PUMPING IRON itself - digitally re-mastered.
Running time: 85 mins

TRT: 169 mins


GENERATION IRON the DVD (EXTENDED DIRECTOR'S CUT)
This Limited Edition Extended Director's Cut* with over 10 minutes of new scenes, is not available in DVD stores!

"Generation Iron" follows the world's top seven bodybuilders as they fight to bring home the coveted Mr. Olympia title. The film features current Mr. Olympia title holder Phil Heath, along with Kai Greene, Branch Warren, Dennis Wolf, Ben Pakulski, Hidetada Yamagishi and Roelly Winklaar.


The Comeback: Arnold at the 1980 Mr. Olympia
This is the story of one of the greatest comebacks of all time. Also starring with Arnold are Tom Platz plus appearances by a number of the Mr. Olympia contenders - Frank Zane, Boyer Coe, Dennis Tinerino, Mike Mentzer, Chris Dickerson, Samir Bannout, Roy Callendar and Roger Walker. Includes scenes of Arnold training in the gym in Sydney, plus contest pump room scenes, interviews, and contest posing by some of the other competitors. See the complete posing routines of Arnold, Platz and Zane, plus the incredible posedown.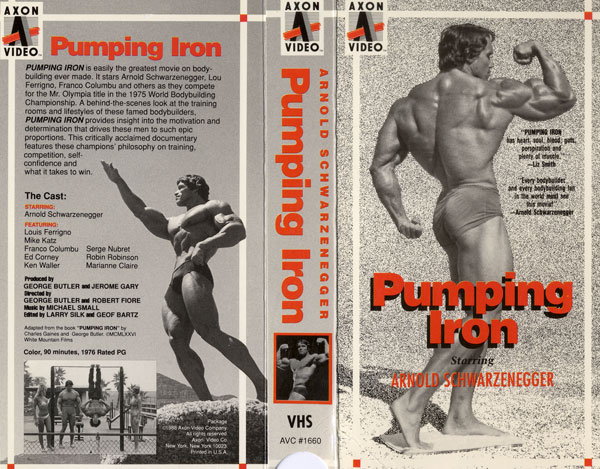 Here is the classic and
original VHS video cover
. Note the stars also seen in the DVD include:
LOU FERRIGNO
MIKE KATZ
FRANCO COLUMBU
ED CORNEY
KEN WALLER
SERGE NUBRET
ROBBY ROBINSON
MARIANNE CLAIRE
ED GIULIANI
PAUL GRANT
TONY NOVAK

For all Arnold fans, check out our own DVD on Arnold titled: Arnold the early years. Click here for GMV-250DVD.
* This Pumping Iron DVD is coded as REGION 1, but WILL ALSO PLAY ON ANY DVD-ROM drive. Most modern DVD players will still play this DVD.


1980 Mr. Olympia - 2 DVD set

SPECIAL EDITION DVD DIGITALLY REMASTERED. Besides Arnold, the line up also included Mike Mentzer, Chris Dickerson, Frank Zane, Boyer Coe, Roy Duval, Casey Viator, Roy Callender, Ken Waller, Samir Bannout, Tom Platz, Danny Padilla, Roger Walker, etc. Includes prejudging footage plus the show.

The most controversial Mr. Olympia of all time! Strictly a hard core contest DVD showing all competitors.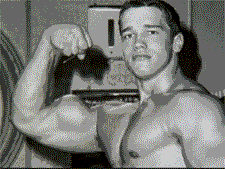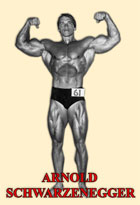 Arnold
Schwarzenegger
"The Austrian Oak"
4 time NABBA Mr. U.

Please click here.
To see Arnold's last NABBA Universe victory, V-108DVD.

ARNOLD THE EARLY YEARS, click here for GMV-250DVD.

Arnold's 1980 last Mr. Olympia victory, click here for V-103DVDSP.

Mr. Olympia - The Golden Years, click here for V-214DVD.